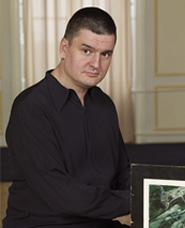 Born in Zagreb in 1965. Upon completion of his conducting studies at the Music Academy in Zagreb, class of Igor Gjadrov, in 1987 he took over the artistic management at the Ivan Goran Kovačić Academy Choir, in which he was involved in for a full fourteen years.
He continued his training with Pierre Dervaux in France, and in between 1989 and 1990 worked with the Moscow State Philharmonic Orchestra on a scholarship from the Zagreb Concert Agency. Saša Britvić proved himself to be an inspired and talented interpreter of vocal and instrumental music over a wide range of styles from the Baroque to contemporary works, conducting ensembles including: the Zagreb Philharmonic Orchestra, the Choir and Orchestra of the Croatian National Theatre in Zagreb, the Croatian Radio Symphony Orchestra, the Croatian Radio Choir, the Varazdin and Split Chamber orchestras, the Dubrovnik Symphony Orchestra, the Croatian Army Symphonic Wind Orchestra, the Orchestra of Rijeka Opera, the Slovene Philharmonic Orchestra, the Sarajevo Philharmonic Orchestra, the State Symphony Orchestra of St Petersburg, the M. I. Glinka Choir, the Emilia-Romagna Symphony Orchestra, the Province of Bari Symphony Orchestra, the Icarus Ensemble, the European Youth Orchestra, the Yehudi Menuhin Foundation Orchestra and the Alpe-Adria Orchestra.
He is one of the founders and conductors of the Cantus Ensemble of the Croatian Composers Association, which specializes in the performance of contemporary music, also including the Croatian Chamber Orchestra. A distinct chapter in his career consists of opera conducting, where he has worked with some of the biggest international names of today – Jose Carreras, Piero Capuccilli, Grace Bumbry, Ruza Pospiš-Baldani, Dunja Vejzović, Luigi Roni, Elena Obrastzova, Wilhelmenia Fernandez, and Katia Ricciareli, just to name a few.
Britvić won the Prize of the President of Zagreb University in 1987 as the best student in the Music Academy and also the prize of the Croatian Music Institute. At the international conducting competition in Saumur, he won first prize, thus becoming a laureate of the Yehudi Menuhin Foundation. From 1994 he has worked as lecturer, and from 1996 as assistant professor at the Music Academy in Zagreb. In 1999, together with Mario Penzar, he founded the Croatian Baroque Ensemble, today, which he is director of. Since 2000 he has been a member of the Board of Management of the Lovro and Lilly Matačić Foundation. Since 2002 he has been director of the International Culture Centre for Young Musicians in Grožnjan, and manager of the Opera Studio in the Croatian National Theatre in Zagreb. Since 2003 he has been the director of the Zagreb Concert Management and since 2005 he has been a full member of the Braća Hrvatskog Zmaja association.